Patient Stories
Waite Vision is pleased to offer patient-centered eye care in Lehi, Utah. Dr. Waite is a highly experienced and talented ophthalmologist who listens to your desires and concerns to create a treatment plan specifically catered to your unique needs. Request a consultation with Waite Vision today and live your life in focus.
ANTHONY PODLOSKI, O.D.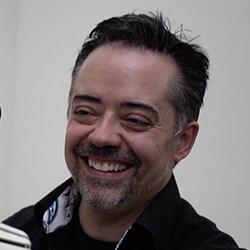 "I'm an optometrist and had ICL surgery … it's opened up a lot of freedom that I didn't have before."
"I'm an optometrist and had ICL surgery by Dr. Aaron Waite. I've grown up since second grade with glasses, and then contact lenses since high school.
I was very nearsighted, so I relied on them all the time. Without them, I couldn't see few inches past my face. It's made a huge difference that I can just get up in the morning and do what I need to do. I have children, so if I get up in the middle of the night with them, I don't have to worry about finding my glasses to see what's going on. It's opened up a lot of freedom that I didn't have before. It has really made things a lot easier not having to worry about glasses and contacts.
I have to rely on my eyes heavily for work, because I need to see what's wrong with other people's eyes. I wanted to make sure that the surgery was safe and the outcome was successful so it wouldn't affect my livelihood or the eye sight of my patients. After having my ICL surgery done, I would definitely recommend Dr. Aaron Waite to do any refractive surgery you may need."
Hear Dr. Podloski's Story
KATE WILSON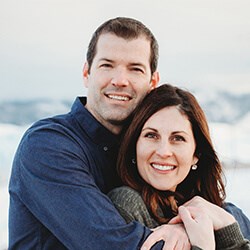 "I can confidently say, this has been one of the very best decisions I've made for myself."
"I began wearing contacts when I was eleven years old. By November of 2016, I could barely stand to put my contacts in each day and would have to remove them in the early afternoon.
My eyes were constantly itchy, dry and irritated. I would wake up several times at night with dry eyes and have to use moisturizing drops. I finally gave up and went back to wearing only glasses. This wasn't a good solution either as my toddler and baby would pull at them, or I'd have them slip down or fall off while playing with my children. Searching for my glasses when a child woke in the night was frustrating and it was difficult to participate in active family outdoor activities while wearing them. It was pretty clear that having corrective eye surgery would be an amazing option.
After reading about Dr. Aaron Waite and his training and experience, I felt assured my vision would be in good hands. Dr. Waite was personable, patient, and kind and explained clearly what I could expect throughout the process of preparing for, receiving, and recovering from corrective eye surgery. The surgery itself was quick and painless and truly went as perfectly as I could have hoped. Dr. Waite is a truly capable and skilled surgeon and I feel I received the best possible care.
Now having enjoyed the gift of perfect vision without contacts or glasses for eight months, I can confidently say this has been one of the very best decisions I've made for myself! My eyes are healthier than ever, I'm sleeping better, and I have the freedom to enjoy the things I love in life without discomfort or inconvenience. I recommend Dr. Waite with full confidence and absolutely encourage anyone thinking about corrective eye surgery to go for it, and the sooner the better."
EMILY PROUET, M.D.
"Getting laser vision correction is hands down one of the best decisions I have ever made."
"After 20 years of dealing with glasses and contacts, I became frustrated and decided to pursue other options.
As an ophthalmologist in training, I had the opportunity to train under Dr. Waite and learn invaluable diagnostic and surgical skills. My time spent working with him gave me the confidence to know that he had the experience, knowledge, and skills to give me the best possible outcome for my own eyes. Waking up in the morning without the need for visual aid is the best feeling. Now I can swim and play sports with my two young boys without worrying about glasses to get in my way. I even believe that my own surgical skills have improved since I have less dry eye now that I am out of contacts. I would highly recommend laser vision correction to anyone considering it, especially in the hands of Dr. Waite."
JERRIN CHIU, O.D.
"Definitely worth it. I would do it again."
"I'm Dr. Chiu, an optometrist, and had ICL surgery by Dr. Waite. It's been great. My prescription before was very high. Ever since surgery I'm back to 20/20.
Everything's been great. When I wake up in the morning, I can see the alarm clock. When I'm working, I can see everything. As an optometrist, you have to really scan the eyes of your patients. With my new vision, I'm able to see everything clearly. I'm even playing better basketball. Dr. Waite's a great doctor. I have a lot of trust in him. I would definitely recommend Dr. Waite to everybody. He's a great doctor and he does a very efficient and professional job. Every day when I wake up, I'm still impressed with my vision and I'm still so happy that I did it. Definitely worth it. I would do it again."
Dr. Chiu's Story
ROCIO DIAZ, M.D.
"My LASIK surgery exceeded my expectations."
"My LASIK surgery exceeded my expectations. It was a good investment, gave me better quality of vision, peace of mind, confidence and freedom.
The procedure itself was extremely fast, and I didn't experience any pain during or after the surgery. The next morning, as soon as I opened my eyes, I was able to see incredibly well. LASIK broke the daily routine of putting contacts on and taking them off, something that I was used to doing since I was 13 years old to correct my high myopia.
After LASIK, many of the little things in life changed for the better: I will never feel vulnerable losing my glasses or contacts, I will never worry about buying contacts again, and I will be able to sleep without the fear of getting an infection. I am now able to fully enjoy going to the swimming pool or the beach without concerns for splashing water in my eyes. As an ophthalmology resident, I saw many patients with devastating corneal infections from contact lenses, and I was a little afraid of getting an infection myself. LASIK surgery not only provided me with outstanding visual acuity, but also eliminated the risk of contact lens infection. In addition, LASIK actually improved my dry eye symptoms that were so common at night after work, or when staring through the microscope while in surgery. I would highly recommend LASIK to anyone who is a good candidate and looking for instantaneous, pain-free, superb visual acuity."
CHERYL LONGSHORE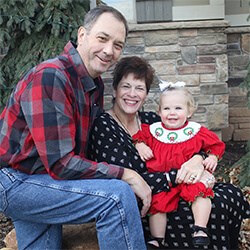 "Now I can see up close, mid-range and far away at 20/20."
"I have been wearing glasses since the second grade. When I was 12, I got contacts. But by the time I was 55, I was unable to wear my contacts anymore and had to exclusively wear my glasses. I had Refractive Lens Exchange by Dr. Waite. It has changed my life!!!!!
I chose multi-focal lenses so I would not need readers. Now I can see up close, mid-range and far away at 20/20. I would highly recommend Dr. Aaron Waite. He is extremely personable, kind, and took extra time to explain things to me. He is very professional and an excellent surgeon. Let him change your life!"